Add a nautical theme to any room with a painted paddle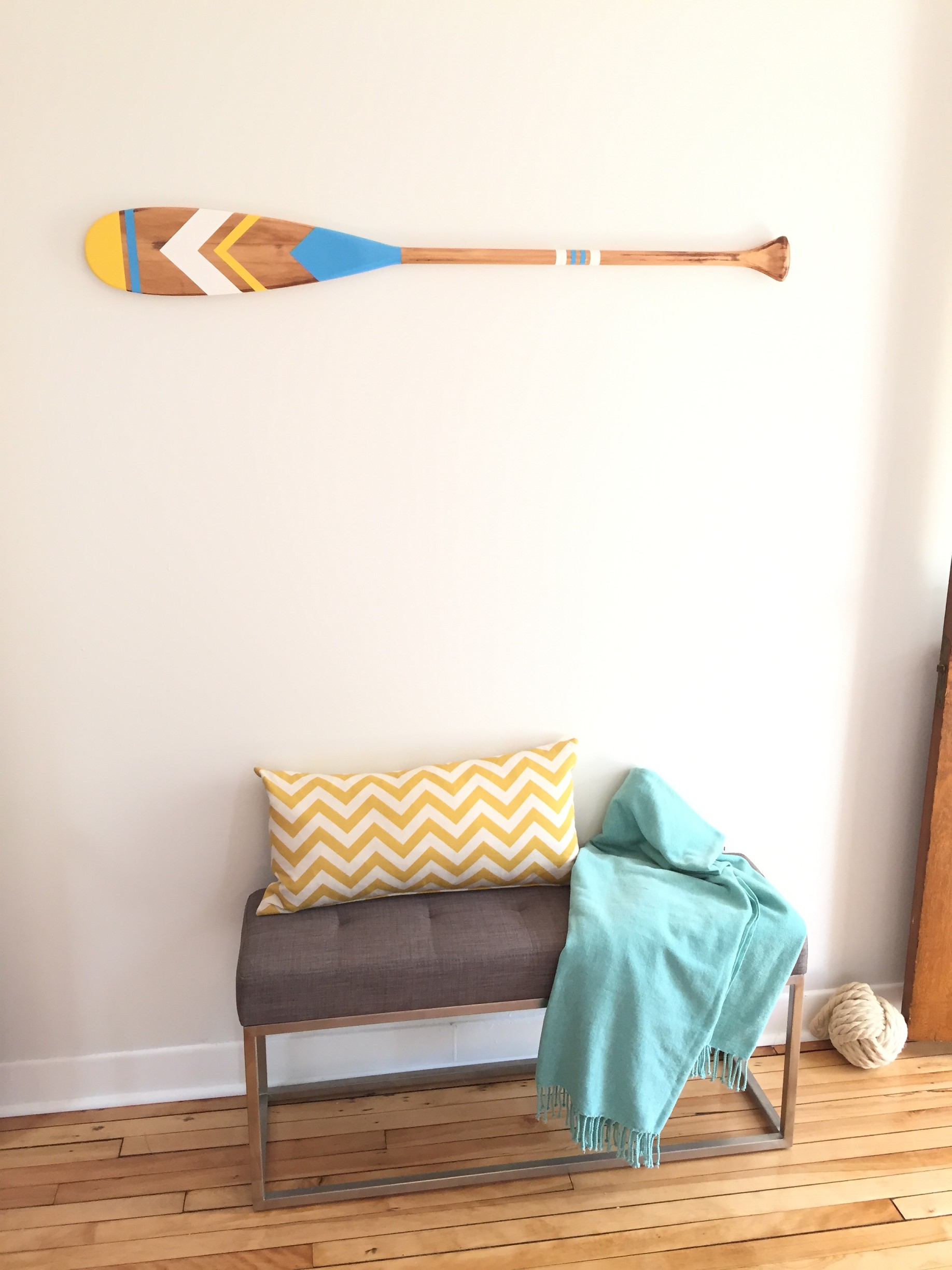 Painted paddle. Painted oar. I can never tell what's what! Oh well, not really important when we're talking about wall decor I guess. No matter how you call them, these nautical designs often sell for about $300 a piece. In this DIY tutorial I'll show you how easy it is to make your own painted paddle for under $30.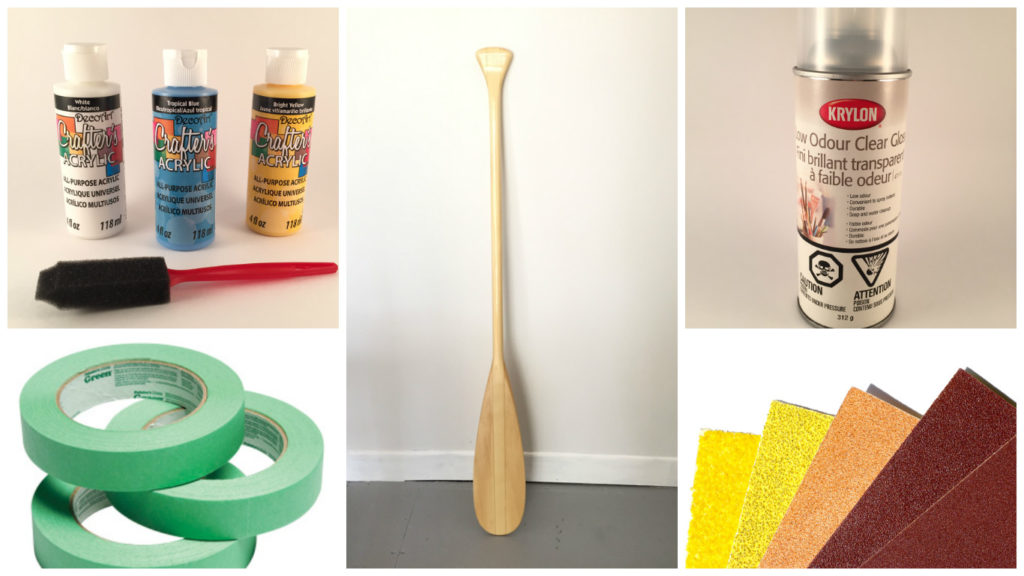 Here's what you'll need

Buy a wood paddle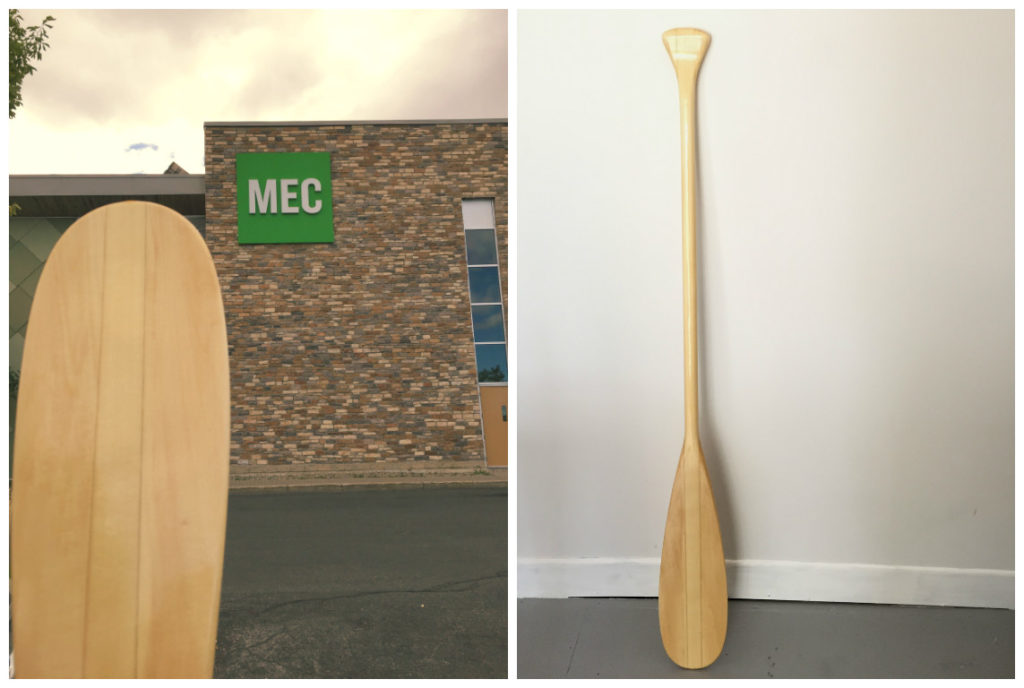 The first step is to get your hands on a wood paddle. They come in various shades, sizes and shapes. The choice is up to you. The most affordable option I found was a 48 inch youth canoe paddle for $24 CAD at Mountain Equipment Co-op.
Find your inspiration: decide on a pattern
You can google painted paddle, painted oar, etc. to find some design ideas for your pattern. Once you find one you like, it's a good idea to sketch it out on a piece of paper just like I did above (sorry for my lack of artistic abilities!).
Next, pick a color palette of your own and play around with the colors on paper to see what works best. In my case, I used some yellow and blue wood buoys I bought while on vacation in Cape Cod as inspiration for my colors.
Sand off the existing finish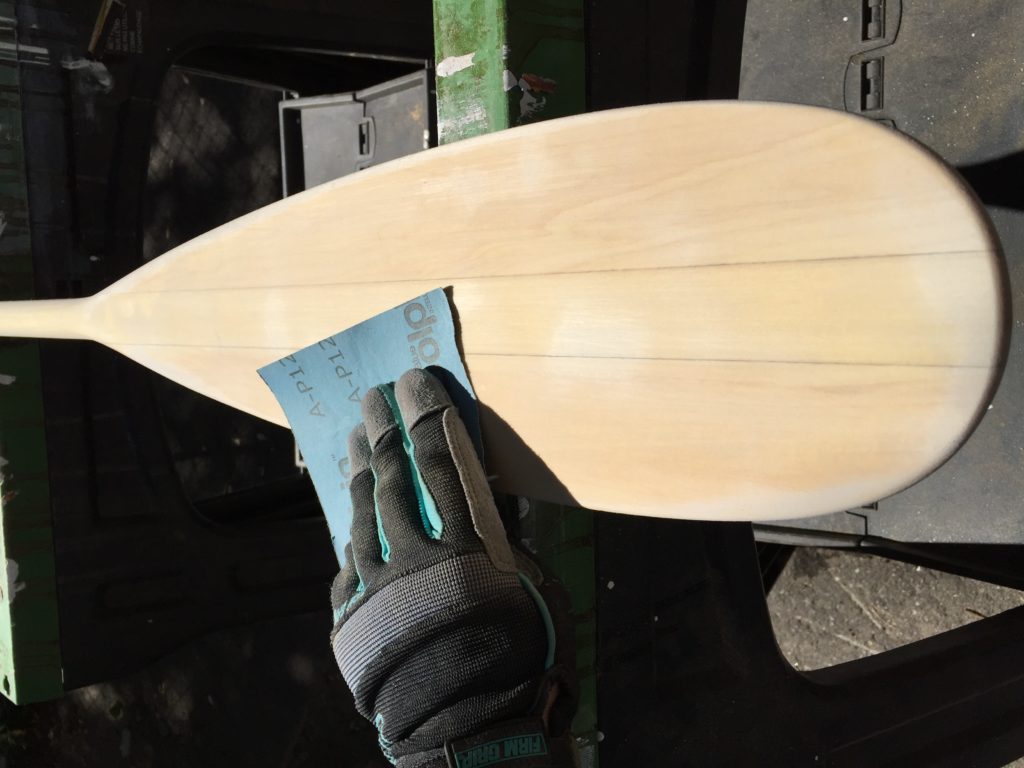 It's a great idea to stain the paddle a darker shade in order to give it more of a weathered look. Therefore, the first step is to use some medium (150 to 180 grit) sandpaper to sand off the clear coat finish in order to expose the bare wood.
Tip: if you don't want to stain the paddle before painting it, just sand it lightly to scuff up the varnish.
Apply stain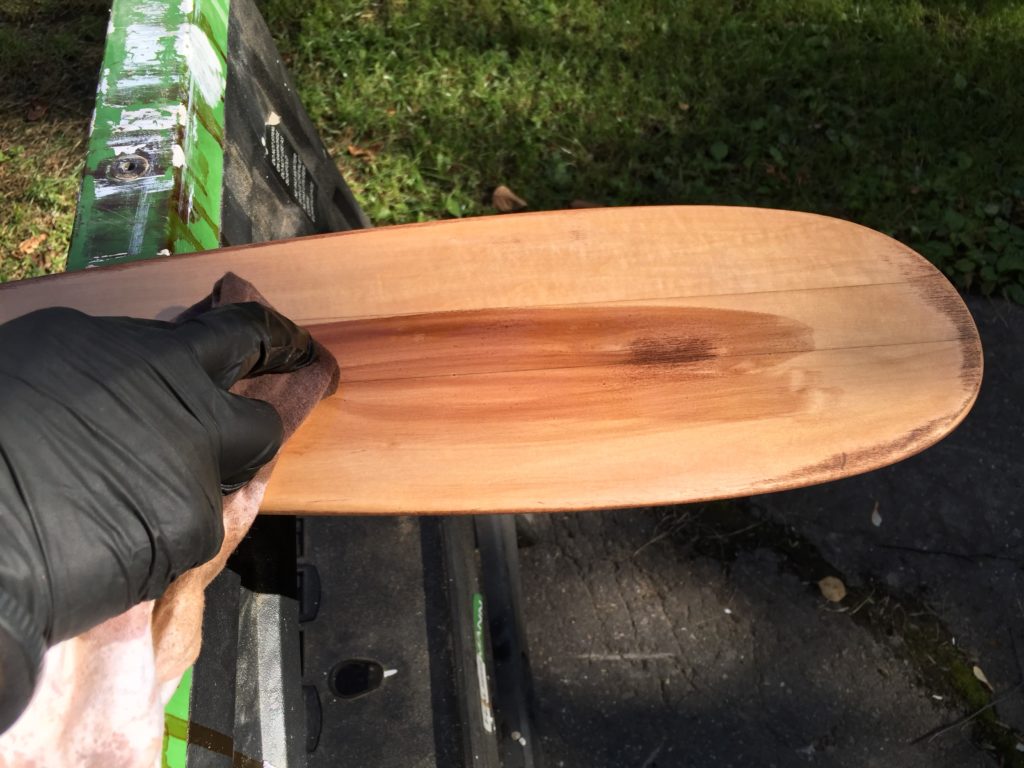 After sanding, wipe down the paddle to eliminate any traces of sawdust. Use a clean rag to wipe on a wood stain of your choice. Apply 2 or 3 coats under you reach the desired shade. I went with my trustworthy Varathane Early American stain. For some reason projects never turn out wrong when I use this shade.
Tape the pattern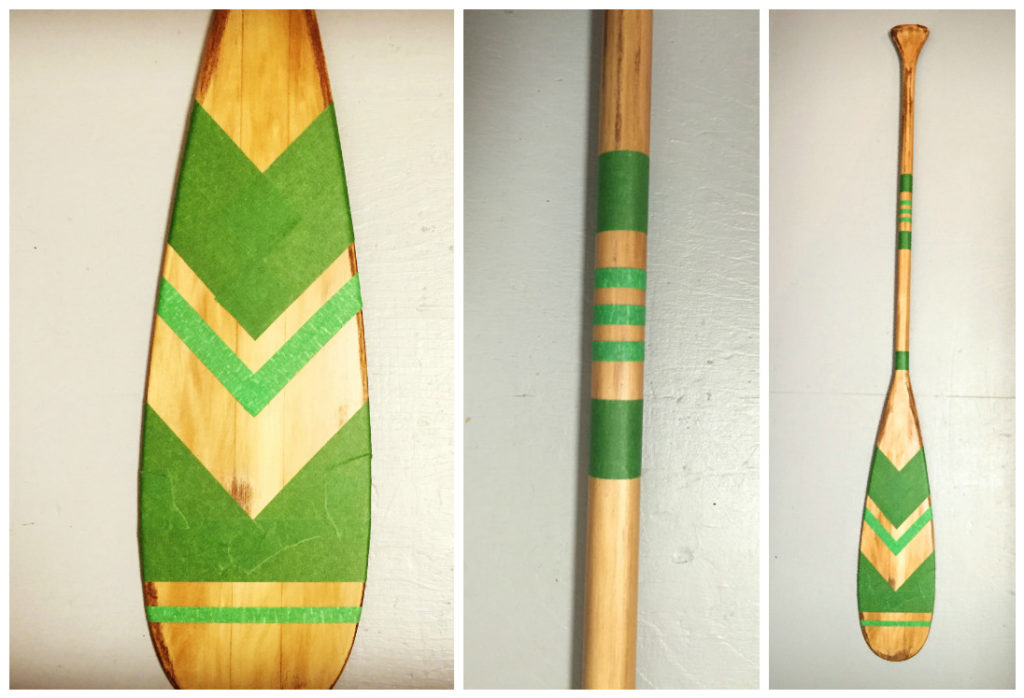 Once the stain has dried, it's time to prepare the paddle for painting. Use painter's tape to mask off the areas that will remain unpainted. Make sure to be as accurate as possible when doing this. Use a ruler to measure the distance on each side to make sure the patterns are symmetrical. Press down firmly on the tape to ensure a tight seal on the paddle in order to minimize any potential bleeding.
Apply paint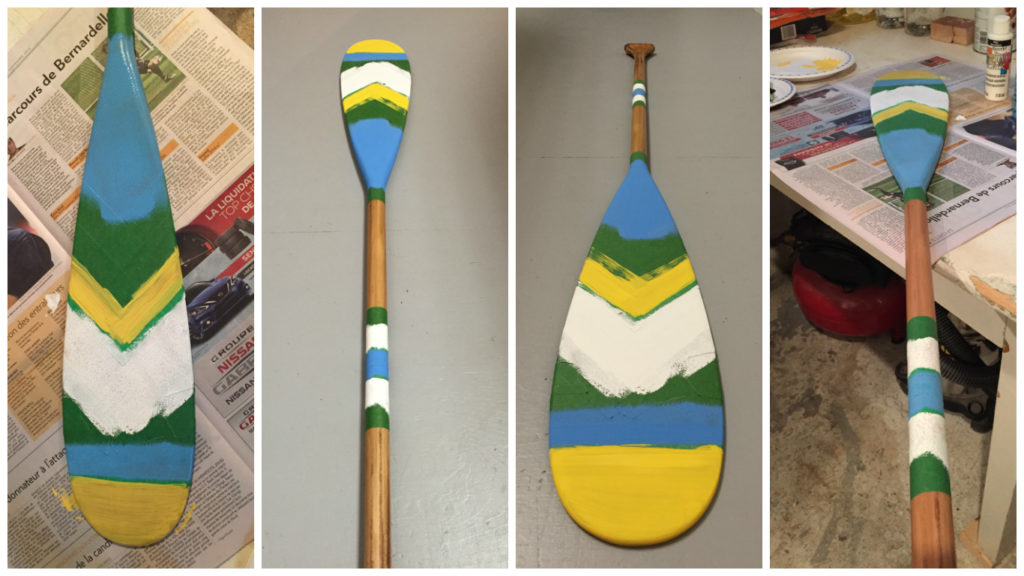 Apply the paint one color at a time. Allow 3 coats in all, allowing the paint to dry between coats.
Tip: At first I started with a paint brush but found it left noticeable brush marks, so i switched to a foam brush in the end. This also makes it easy to just rinse off the applicator between colors and dry it off with a paper towel. Don't worry if you still see brush strokes – they should fade as you add on additional coats.
Spray Varnish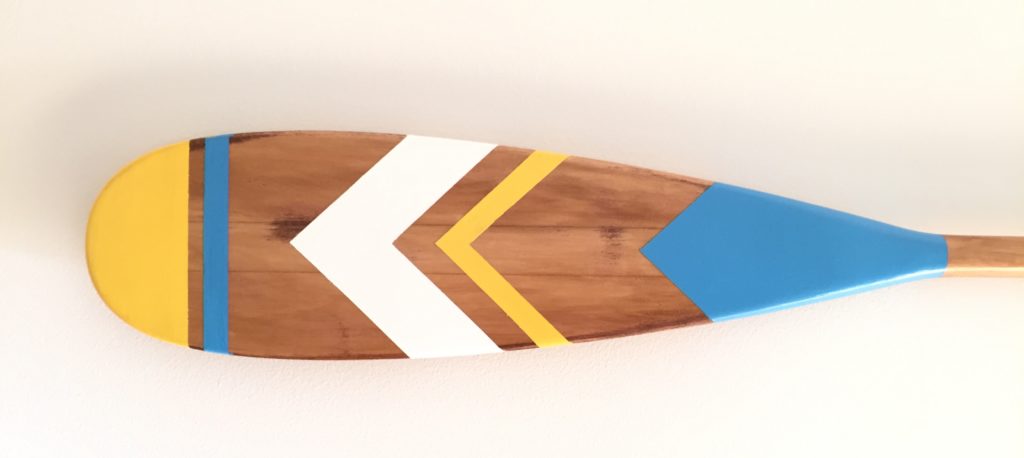 Once the paint has dried, carefully remove the painter's tape. Tip: If you notice any paint bleeds, carefully scrape off the excess using a utility knife or razor blade.
Lightly coat the entire paddle with some spray on clear coat varnish. Apply 2-3 coats.
Hang on the wall
Finally, the paddle is ready to be mounted on the wall. I wanted the paddle to float on the wall without any visible hardware. Here's how to get this look.
You'll need two mechanical screws 2 inches long. Find headless screws if you can or just cut off the heads. Determine where you want your paddle on the wall. Level it and draw a line under the shaft. Mark the line towards both ends. Next, measure the distance between the 2 marks and transfer these onto the shaft of your paddle. Drill a pilot hole just slightly smaller than your screw at each mark on the shaft about a quarter inch deep. Screw in the mechanical screws with the help of some pliers. Next hold the paddle up against your markings on the wall to double check that the marks line up with the screws in the paddle. Drill two pilot holes into the wall using the same drill bit. Finally, simply push the screws into the wall.

Related posts: