Make a hairpin leg coffee table from reclaimed butcher block
I recently discovered that antique solid wood doors are actually made up of oak butcher block hidden under wood veneer. Lucky for me I have a bunch of old doors lying around in the garage. Having been exposed to years of humidity and temperature swings, the doors have warped and have sadly outlived their utility as doors, but will make for a great coffee table.
Here is what you'll need to make this square 32 inch by 32 inch coffee table
2 beaten down antique solid wood doors
2 wood reinforcement bars
Polyurethane (I used non-yellowing water based varnish)
Peel away the veneer
Get your hands on two old beaten up wood doors. You can likely find them for a few dollars or even for free on sites like Craigslist or Kijiji. Use a heat gun and putty knife to slowly peel off the wood veneer on the front side of the door to reveal the butcher block underneath. Do this on one side of the door only.
With the butcher block exposed, use a circular saw to cut out six sections measuring 32 inches in length.
For more details on this step, see my butcher block floating shelves project.
Sand and sand again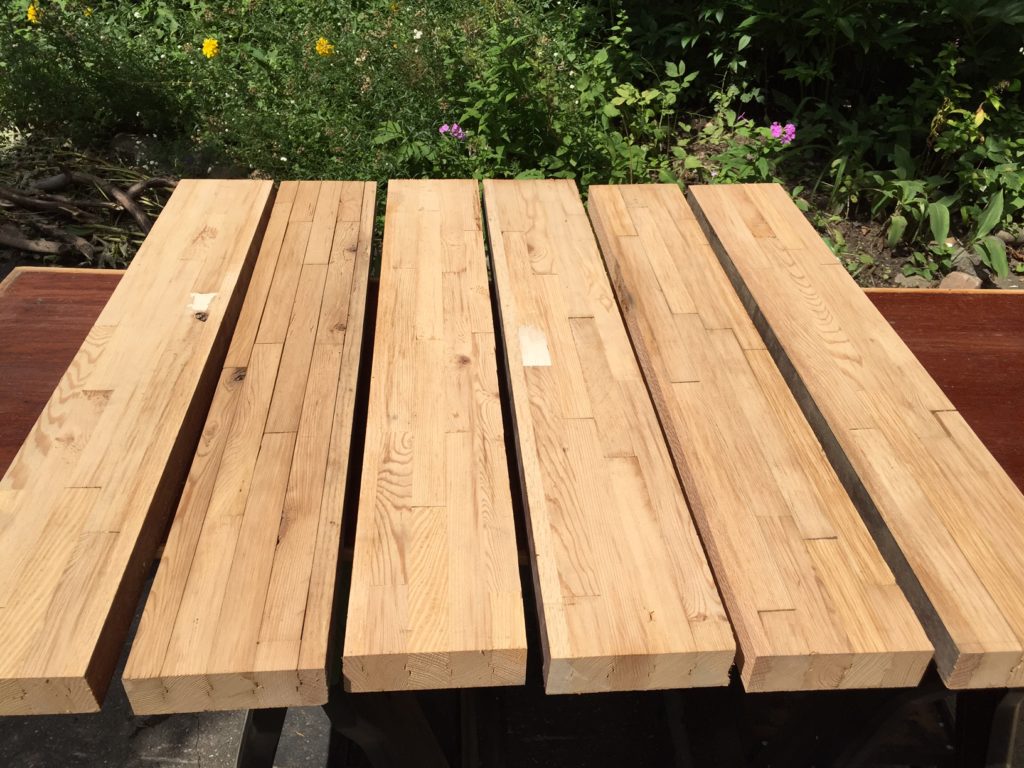 The next step is to thoroughly sand down each of the pieces. Use heavy 60-grit sand paper with your orbital sander to get rid of any glue residue, then move up to a finer 180-grit paper. Sand until smooth.
Assemble the pieces to form the tabletop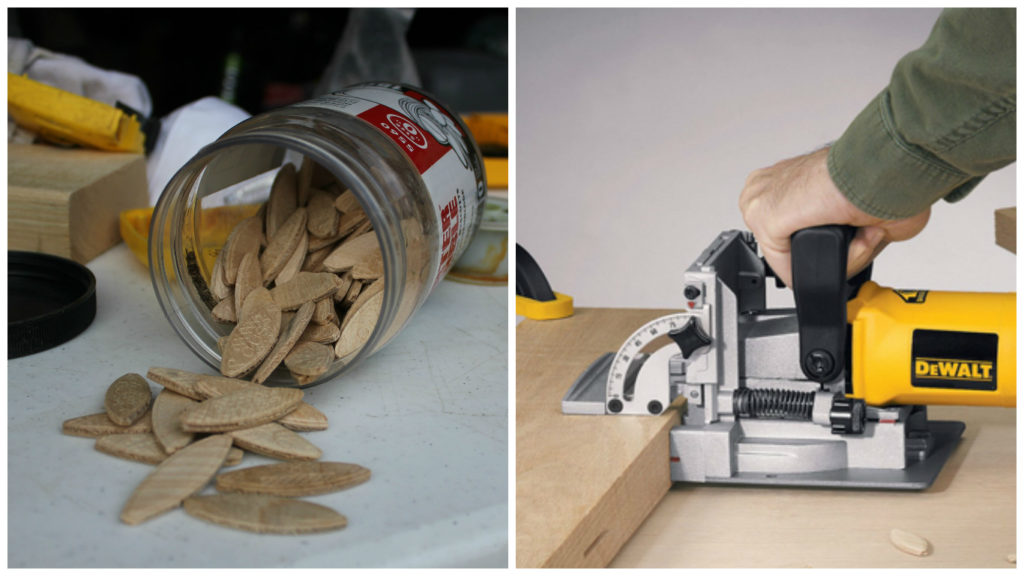 Because each section of butcher block is quite heavy, it's best to use biscuits when assembling the pieces. Get your wood glue and clamps ready. Use your joiner and pre-cut all the holes. I used large #20 biscuits. Start from the left piece and move your way to the right applying glue to both the biscuit holes and the inner seem. Press the pieces together as you go and clamp them all together with your bar clamps when done.
Paint the hairpin legs
You can order pre-painted hairpin legs but mine were raw steel so I painted them black for that mid-century look. I had some satin black metal paint lying around (actually high heat BBQ paint) so I just used that.
While the butcher block is drying use a foam brush or roller to avoid paint brush marks. Apply two coats and let dry.
Reinforce the bottom side
Remove the clamps from the butcher blocks and flip it over to work on the bottom side. In order to reinforce the table and prevent the sections from splitting apart, I used 2 steel reinforcement bars. Attach the bar with #12 pan head screws, placing a screw in every other hole. Revised: I ended up removing the steel bar and using tapered wood (2×2 deck rail posts) and there was too much flex to the metal bars)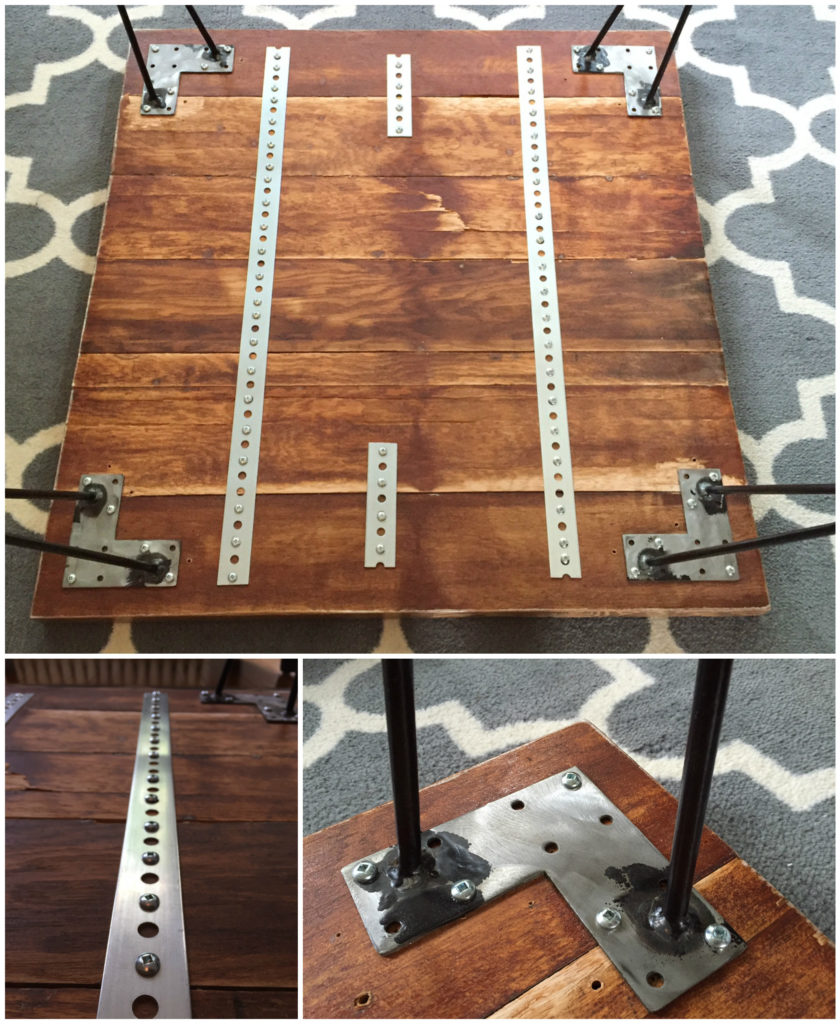 Attach the hairpin legs
Measure and mark 1 to 1 1/2″ inwards from the bottom edges of the table. Position the legs and drill some pilot holes, then attach the legs with some #12 round head screws.
Apply stain & varnish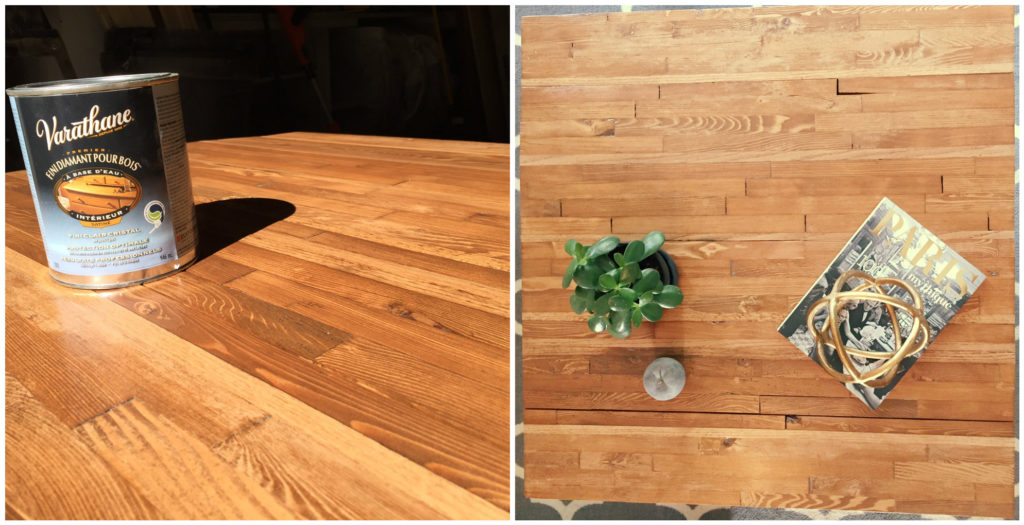 Flip the table back over and you're now ready to finish the tabletop. Sand down the top thoroughly until smooth. Start with coarse 80-grit paper and work your way up to finer grain 220-grit.
Vacuum the butcher block and wipe down with a clean rag to eliminate any traces of sawdust.
Apply a stain of your choice using a rag or foam applicator. I used my all time favorite Varathane early american premium wood stain. Let it dry according to the manufacturer's instructions.
The final step is to apply varnish. I recommend a minimum of 4 coats, but I went a little overboard and did 10 coats. I used a satin finish water based non-yellowing polyurethane. Use a paintbrush to apply the varnish using even controlled strokes to avoid any bubbling and minimize stroke marks.  For best results allow to dry for 7 days before use.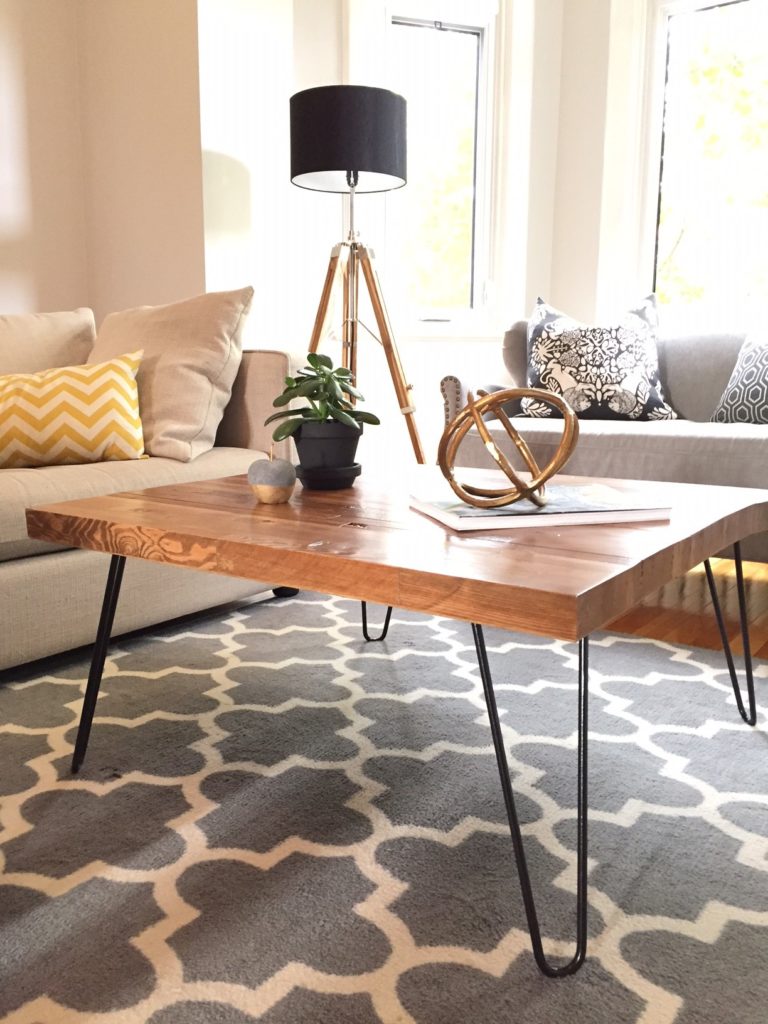 Related posts: