I went into West Elm the other day and saw this super cute mid-century plant stand, and immediately thought to myself – I can make that! I was even more convinced of myself after I took a peek at the price tag.
Check out the video below for the step-by-step making process or read on!
Click here to SUBSCRIBE to my YouTube channel for more DIY videos!
Materials

MATERIALS USED
TOOLS USED
Now available for order on my Etsy shop! Click here for listing.
Measure your Planter

I started by measuring the size of my DIY concrete planter in order to figure out the size of the plant stand:
top diameter = 11-1/4″
bottom diameter = 10-1/4″
height = 10″
I wanted my legs to go half way up the sides, i.e. 5 inches
So the inner diameter of my plant stand will be (11-1/4+10-1/4)/2 = 10-3/4″
I also want the legs to be 5 inches below the stand, so 5″ above + 5″ below + 1-1/2″ (width of the supports) = 11-1/2″
Therefore my dowels will be 11-1/2″ and my cross supports 10-3/4″
Mark Your Cuts
I first cut my poplar board into 2 equal lengths, which I laid side by side and clamped together.
I roughly found the center point and marked across both pieces using a combination square. I then measured 3/8" on each side and marked again with my combination square. Finally I marked 3/4 inch deep. When I was done, each piece was marked with a 3/4 by 3/4 notch (this is equal to the thickness of the poplar board I used).
Don't unclamp just yet! The last measurements you need to make are for the overall length of the support beams. Mine needed to measure 10-3/4 so I measured and marked 5-3/8 from center on each end. I then transferred this mark onto the 3/4″ edge. Ok, now you can remove the clamps!
Cut the Support Beams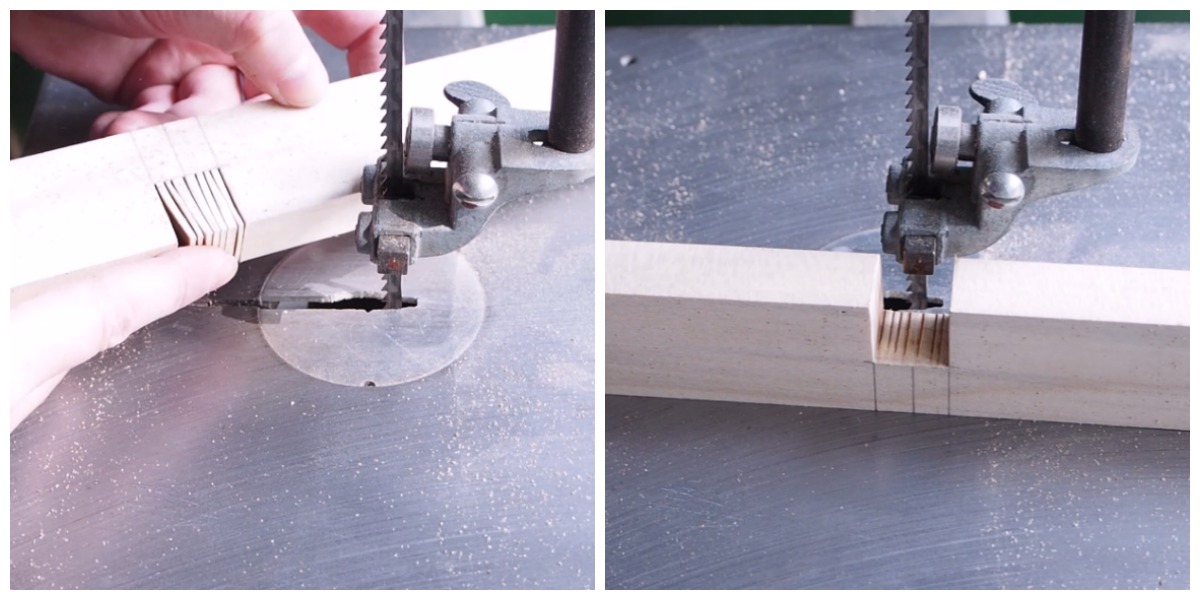 I started by cutting out the notch using my band saw, but you can use a small hand saw just as well.
I wanted to make this stand as professional looking as the one at West Elm, so I thought it was important to cut the support beams so that they hugged the rounded shape of the dowels where they connected. I used my drill press with a 7/8" Forstner bit that matched the size of my dowels. I lined up the outer edge of the bit with the line I had marked and plunged it all the way through.
Cut the Dowels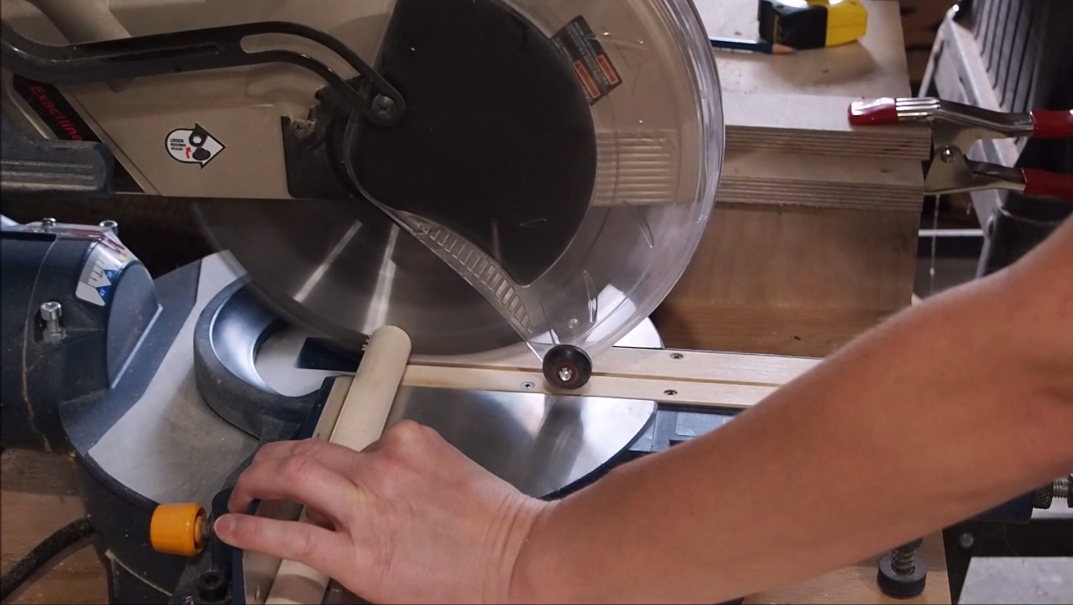 For the legs, I decided they should go half way up the sides of my planter (5 inches) and I wanted equal length below the planter (5 inches). I added the width of the cross beams (1.5 inches) for a total dowel length of 11.5 inches. I used my miter saw with a stop block to cut the 4 dowels.
I then sanded the edges to round them over a bit.
Assemble With Dowel Pins
In order to accurately place my dowel pins, I cut a small piece of cardboard and made to pin holes. I used this as a template to mark all the holes I needed to make. I then used a 1/4″ Forstner bit to make the holes.
I started by dry-fitting and although the alignment was not perfect, I was confident that I could get it to fit snugly with the help of some clamps. I added some glue and lucky for me, I was right.



Final Assembly
Once the glue had dried I connected the cross beams. They needed a little encouragement, so I tapped them gently together with a hammer (a soft mallet would have been better).
All that was left was to apply my favorite wood stain, Early American. The final result looks great with my new DIY Concrete Planter, and is sturdy enough to withstand the weight!
If you haven't already done so, you can watch the step-by-step video
Related posts: